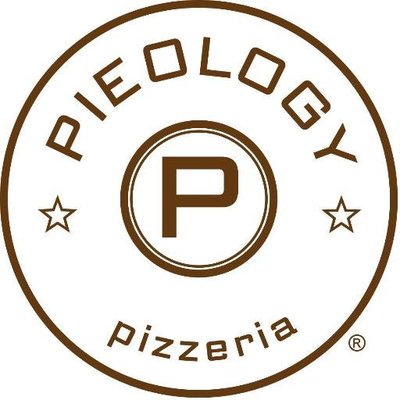 Pieology – where you can make your own pizza without getting your hands dirty!
The Pieology experience starts with fresh house-made dough that is pressed into 11.5-inch thin pizza crusts. Guests first select from seven base signature sauces, moving down the line to choose from nearly 30 fresh meats, cheeses, vegetables, herbs, and spices. The custom pizzas are then stone-oven fired in under three minutes. To finish, guests have the option to add after-bake "Flavor Blast" sauces, including fiery buffalo, pesto, and BBQ, to create their own unique masterpiece. Each custom pizza with unlimited toppings is always $8 or less. Pieology also offers gluten-free crust and a selection of seven signature pizzas, which can be customized upon request. … All locations will feature an industrial-chic and friendly environment where inspirational quotes decorate the walls, menus and employee uniforms.
From the "Our Story" page — Pieology prides itself on providing the best tasting, healthiest kustom pizza in the world. Using only the freshest ingredients, Pieology provides smoking hot pizzas in under 5 minutes. Our energy efficient restaurants are not only comfortable, but also adhere to the philosophies of our corporate mission statement : MAKING THE WORLD A BETTER PLACE ONE PIZZA AT A TIME. (updated to: "Be inspired to make a difference one pie at a time.")
official website = pieology.com | on Facebook fb.com/pieology | on Twitter @pieology | on Instagram instagr.am/pieology
Buzz about Pieology
Pieology intros Alfredo pizza, whole wheat crust (pizzamarketplace.com) – started January 27, 2015
Reinventing The Pizza (Forbes, 1/19/15)
Americans spend nearly $39 billion a year on pizza, whose origins go back to the ancient Greeks (the recognizable pie dates from 18th-century Italy). Two-thirds of every dollar gets spent at the likes of Pizza Hut, Domino's and other fast-casual joints.
Pieology Pizzeria Reports 2014 a Banner Year in Growth and Volume: Expansion Continues With Eight Southern California Locations to Open by April (Press Release, 1/05/15)
Pieology Rides Into 2015 On a High Note (QSR)
'Chipotle of pizza chains' Pieology coming to Hawaii (Pacific Business News, 11/3/14)
The chain makes its own crusts, which Chang describes as an "artisan crust with a bit of a New York chew. We have one of the best-tasting crusts in the industry. It's not cracker-thin. It has a bit more texture and a bit more elasticity."
9 pizza franchises hoping to deliver millions (MSN Inside the Ticker, 11/1/14)
For your dining pleasure: The best build-your-own pizza places (OC Register, 10/22/14)
Pieology supports nonprofit at grand opening (SignalSCV.com, 7/23/14)
Pieology has chosen to support the Santa Clarita Valley Youth Project on its grand opening day by donating 25 percent of its sales to the nonprofit group on that day. The pizzeria is also giving away 50 free pizzas to the first 50 customers of the day.
Pizza gets personal: Build-it-yourself pie shops explode on food scene: Pizza chains are growing at a rapid clip across Southern California (OC Register, 7/11/14)
Pieology Pizzeria Names New President (Restaurant News, 6/18/14)
Pizza's Arms Race: Long dominated by delivery and takeout players, the pizza industry is in the midst of a fast-casual revolution. And everyone wants to be the Chipotle of pizza. (QSR, 9/2013)
Franchise Chatter Guide: How Fast-Casual Custom Pizza Evolved Into the Hottest Franchise Concept of 2014 (Franchise Chatter, 5/12/14)
Pieology's Quest For World Domination: Six(!?) Locations In The Works (OC Weekly, 5/22/13)
Since its founding in 2011, Pieology has helped raise funds for numerous worthwhile charities, including the Cystic Fibrosis Foundation, Leukemia and Lymphoma Society, Rady Children's Hospital in San Diego, and many local non-profit organizations such as youth sports teams and schools.
Goodbye, Pizza Hut — Why Better Quick-Serve Pizza is the Next Big Dining Trend (Forbes 4/25/13)
The Dish List: Pieology (newuniversity.org 3/05/13)
The atmosphere of the eatery is also pleasant, though a little cramped, especially during rush hour. One of the walls is covered in a multitude of quotes from a variety of people, which are interesting to read while waiting in line, especially when it gets busy, which happens frequently. Whether coming for lunch or dinner, Pieology always seems to be packed with the line out the door and the tables filled, inside and outside.
Pizza Your Way (Greer's OC, 2/20/13)
The concept, in the same vein as Chipotle gives you the chance to custom create your own 12-inch pizza in an assembly line for a mere $7.50, or a classic cheese pie for just $6. You can be the designer of your pizza… Your pizza will go in an open-flame oven at 675 to 800 degrees and bake in less than 2 minutes. … Owner and founder Carl Chang says that the deliciousness of the crust is a proprietary recipe and blend that's confidential. "The blend we have worked hard on, is years of fine tuning a recipe so that we can deliver a consistent taste profile that allows it to have just the right amount of chew yet flavor profile for successful thin crust taste," Chang says.
O.C. restaurant scene evolving (OC Register 11/21/12)
Pieology, whose key investor is former tennis star Michael Chang, opened a second "build-your-own" pizza concept at the Irvine Spectrum Center on Tuesday. … When the first Pieology opened last year near Cal State Fullerton, it was quickly dubbed the "Chipotle of Pizzerias" because of its assembly-line ordering system.

… The question: Will the people of South Orange County embrace Pieology's Subway-style ordering system? You bet, says Pieology founder Carl Chang, Michael's older brother. Chang said the Fullerton restaurant saw plenty of "working professionals and soccer moms" over the summer when CSUF students were on break.
Battle DIY Pizzas! We compare and contrast the pies and the service at Pieology, the Pizza Press and Blaze Pizza (OC Weekly 9/20/12)
… this kind of newfangled Chipotle-style model of pizza shop [was] first popularized by Adam Fleischman's 800 Degrees in LA… Pielogy's pie is the closest to the Neapolitan idea of a pizza…
Daily Slice: Pie-ology, Fullerton, CA (seriouseats.com 4/4/2012)
… The question I keep hearing lately is "Who will be the Chipotle of pizza?" Fast-casual pizzerias all over the country are clamoring for the title. In Southern California, Carl Chang's Pie-ology has a promising formula: a super thin crust and a dash of theatre.
Pie-Ology-Fullerton,CA (IsItReallyThatGood.com 11/22/2011)
… it's definitely a place I would recommend if you are looking to go wild and construct a pizza like you've never had before …
Adventure: Pie-ology (foodbeast.com 9/22/2011)
Who will be 'the Chipotle' of the pizza industry? (QRSweb.com 7/28/2011)
Although it's too early to call out a No. 1 leader in the top-your-own pizza market, it seems Top That! Pizza, Mod Pizza, Pie five pizza co., Pie-ology and Uncle Maddio's Pizza Joint are the major players.
… The California pizza restaurant was the brainchild of James Markham, who also helped the Swensons launch Mod. He is now working hard to brand Pie-ology as the best top-your-own pizzeria in the market. Although he has only one store open now, two more will be running by the end of the year, and plans are in the works to add 15 to 25 in the next 24 months.
Oven matters: Markham said his open-flame oven sets Pie-ology apart from his competitors. Once the pizza is built, it goes in our open flame oven and cooks at 800 degrees in 2 minutes or less. No other pizza place can do that."
… "And conveyor ovens? Really? That gives the customers no theatre whatsoever, and pizzas done in a conveyor oven don't come close to pizzas cooked on a stone," he said.
Pie-ology wants to be the Chipotle of pizza chains (Fast Food Maven @ OC Register 7/20/11)
Pie-ology Pizzeria's assembly line style of ordering has patrons calling it the Chipotle of pizza places in Orange County. … Pie-ology owner James Markham,41, said he wanted to combine Chipotle's concept of assembly line ordering with his love of pizza.
Pie-Ology Aims To Be The Chipotle of Pizza, Coming to LA (LA Eater 5/4/2011)
Pie-ology Pizzeria: The Study of Kustom Pizza (OC Weekly 3/31/2011)
… I wanted to email Steve Els and inform him that this is America's Next Great Restaurant. For less than $10, I had a fresh, hot, satisfying meal that can be customized to my liking. Like its slogan states, "All the stuff that should be made daily by hand . . . we make daily by hand."
Tips about Pieology (foodie54.com)
This fast-casual pizza concept was originally founded by MOD Pizza's James Markham who sold his interests to business partner Carl Chang.
#7 in the Top Ten Daily Slices of 2012 (seriouseats.com 12/2012)
No. 35: #4 at Pieology — #35 in the 100 Favorite Dishes 2011 of OC Weekly
Color Commentary
"Consumers increasingly view pizza as the 'go-to' food when they don't feel like cooking," said Technomic Executive Vice President Darren Tristano. … New pizza concepts expanding or adding more locations in Orange County include Pizza Lounge, Spin, Pizzeria Mozza, Pitfire Pizza and Pie-ology. The latter concept is identical to Blaze. Dubbed the Chipotle of pizzerias, Pie-ology in Fullerton allows customers to order their 12-inch custom pizzas in an assembly-line fashion. … Pie-ology founder Carl Chang said he's not surprised by the Blaze concept. "I think there are several well capitalized people in the food industry trying to enter the custom pizza space with similar concepts partly because of our success at Pieology," Chang said. "Hopefully, at the end of the day we are the people's choice." (Fast Food Maven @ OC Register)
Company Details
Pieology Pizzeria Franchising information = pieology.com/franchising
Pieology Pizzeria career opportunities = pieology.com/careers
First launched in Fullerton, March 2011. (via)
Fullerton – Yelp review page [store #1]
Pieology Pizzeria
516 N State College Blvd, Fullerton, CA 92831
[send a gift card via giftrocket]
Irvine Spectrum – Yelp review page
81 Fortune Dr, Irvine, CA 92618
[send a gift card via yiftee]
And many more locations in California (Asuza, Berkeley, Carson, Chino, City of Industry, Corona, Fremont, Grenada Village, Lakewood Square, Northridge, Pleasant Hill, Rancho Cucamonga, San Diego, San Jose, Thousand Oaks, Upland, Valencia, ) and elsewhere (Colorado, Oregon, Texas)! Pieology is set to open a total of 180 locations by the end of 2015.