slow down & save money. open house & bbq.
While working out (I try to do that 3x a week) walking on treadmill, saw the big weekend news item about excalating gas prices — $3.87 national average, over $4.00 in my 'hood. CNN was interviewing a guy from Consumer Reports saying that if you speed up from 55 to 65 mph, you lose 5 mpg in fuel (in)efficiency. Accelerating from 65 to 75 mph, you lose another 5 mpg. Tip: drive 55 mph, get 10 more miles to the gallon. Being translated, save $6 per tank when you slow down. Pointing finger at myself, no one else.
Hosting an open house and bbq at our new condo town home on Memorial Day 10am-8pm. Come by as long or as short as you'd like. Family-friendly. Swimming pool and house tour optional. RSVP to me and I'll get you directions to Aliso Viejo.
An overflow this week with conferences on both coasts. Purpose Driven Network Summit (#pdsummit08) had over 1,700 pastors and leaders from Tues to Thurs at Saddleback. 30+ recorded videos on Ustream of interviews & conversations with panelists and attendees. I'm in a handful of them too – look for orange. At the PEACE Coalition press conference afterward, they said they'd do this Summit again next year in May 2009. Props to Tony Steward for pulling off excellent live-streaming web coverage, and my fellow conversationalists Carlos, Tony, Tom, and Mike! Aside: 1 of my audience shots.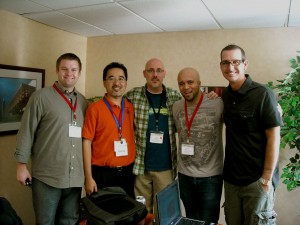 Whiteboard Sessions (aka #WiBo) kicked off their one-day big deal on Thursday with around 1,000 — lotta videos over at ConferenceChannel.org . More than a handful of crazy pastors went to both! [update: just read these sagely words from Jeff Shinabarger recognizing people's gift and potential — do go over there and welcome Jeff to the blogosphere! He's blogging into his 2nd month now.]
Question to all: should I create a new Twitter account for play-by-play conference tweets? A few have said that I've overloaded their phones.
Shifting gears between conferencing + conference calls + phone calls + meetups has wiped out. Maybe I'm getting too old for this. Extending my weekend, starting now, to be unplugged. Peace out.