Nashvilling
Got up very early this morning, getting to BWI, and flew out of the new terminal A, its first day of operation. Got to meetup with Nick Howard and Linnea Nilsen Capshaw, sat together on the open seating of Southwest, engaging in some consultant-speak and hear about their new ILS Coaching & Consulting org. Arrived in Nashville promptly, and got to see a dozen or two of familiar faces – you'd recognize some of the names, if you're familiar with the emerging church blogosphere: jenlemen, willzhead, Lilly, pomomusings, Jay Voorhes, Aaron Klinefelter, pagitt, marko, Tim Keel, Dan Kimball, Tim Conder, wanderingfisherman, John Musick (Nick Ciske's pastor), and there's more, believe you me. Sorry Holly, Rachelle, others, I got tired of copy + pasting URLs. See the semi-official EC05 bloggers list.
There's many more new faces at this convention, and a very different progam to guide the conversations. Less presentational, more interactive. Even a handful of Asian faces in the mix. A few more Latino and African American faces (more than Asian ones). I think the tone is more generous, yet still pushing the envelope and still exploring. I'm hosting 2 forums to give a safe space to the "over 50" and "urban" affinity groups, so they can ask questions, vent their concerns and fears, share their excitement and resonance. And at tomorrow's bloggers lunch forum, we'll be making a big announcement. (the 'we' refers to ForMinistry.com)
And, tonight, a small cohort of us head out to Opryland for a midnight showing of Star Wars III!
[update: our movie showtime was 12:08am, 8 of 15 showings right after midnight; the movie STOPPED 2/3 of the way through it, and it took about 10 minutes for them to fix it. Regal Cinema did the right thing and offered a voucher for a free movie, as close to a refund as they could, for a rumored 3 theatres where the movie also stopped.
As for the movie, I'd love to share a spoiler. But then again, we already know what happens from all the prequels and sequels, so the movie is more of the visual re-enactment of what we know is going to happen, mostly. The gruesome details of how Anakin became Darth Vader was the most vivid, and perhaps the most feasible for the actor Hayden Christensen to pull off — he plays evil much better than he plays being a lover.
Special thanks to Aaron Klinefelter for being our designated driver, and not getting caught for breaking a few traffic laws en route. And, Andrew was the fastest with blogging and podcasting the experience.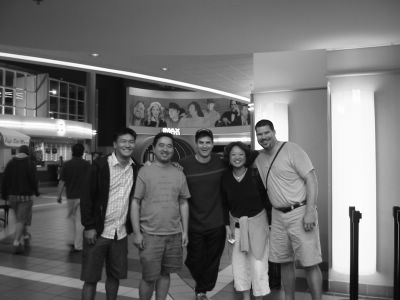 Didn't return to my room until 3:30am, woke at 6:30am, so I'm not going to be at the top of my game or attentiveness today.]
[update 5/19/05 7:48am] Live blogging update. Brian McLaren just walked in to Provence Bread & Cafe to meet some people. I'd video it or snap a photo, so you can see the evidence, but you'll just have to take my word for it.